Our Work
1823, managed by Efficiency Office, provides a round-the-clock one-stop service.
1823 handles enquiries, compliments and suggestions for 23 participating departments and receives complaints about any areas of government services. For complaints, we will record the case details and refer the cases to the appropriate bureaux / departments. The relevant bureaux / departments will decide how to follow up and respond. 1823 will track the progress of the department's reply and, upon request by bureaux or departments, convey its reply to the complainant.
For cases outside the scope of 1823's service (e.g. enquiries, compliments and suggestions concerning non-participating bureaux and departments), we will provide the contact information of the relevant bureau / department for citizens to contact directly.
1. Submit
You submit an enquiry, complaint, suggestion or compliment to 1823.
2. Refer
For the 23 participating departments, 1823 will answer enquiries about their services directly on their behalf and refer unresolved enquiries, compliments and suggestions for their consideration and action. For other bureaux / departments, we will provide their contact information so that citizens can contact them directly for enquiries, compliments and suggestions about their services.

For complaints about any bureaux and departments, 1823 will refer them to the relevant bureaux or departments for consideration and action.
3. Handle
The concerned department will handle the case as soon as possible upon receipt of the case. The handling time varies according to the case type and nature.
4. Reply
You will be notified of the result as soon as possible after the bureaux or departments have followed up on the case.
1823 Service Charter
We aim to make the best use of our available resources to provide efficient, effective and high quality service to the public. To achieve this objective, we need full cooperation from members of the public in the discharge of our functions. 1823 has drawn up the following Service Charter:
Our Commitments:
Serve you with courtesy and respect;

Protect your privacy and personal information;
Provide information to your enquiries; and
Keep track of the progress of your case and follow it up with the concerned departments.
Your Responsibilities:
Treat our staff with courtesy and respect;
State clearly your issues and provide sufficient information so that we and the concerned department can follow up your case; and
Not to abuse the use of public resources, including lodging repetitive, unreasonable, frivolous or vexatious cases.
We do not accept any act or behaviour that disrupts our normal operation or causes nuisance or disturbance to our staff. We may cease serving you if you lodge a case with abusive, insulting, obnoxious, offensive, threatening or vicious content, tone or language.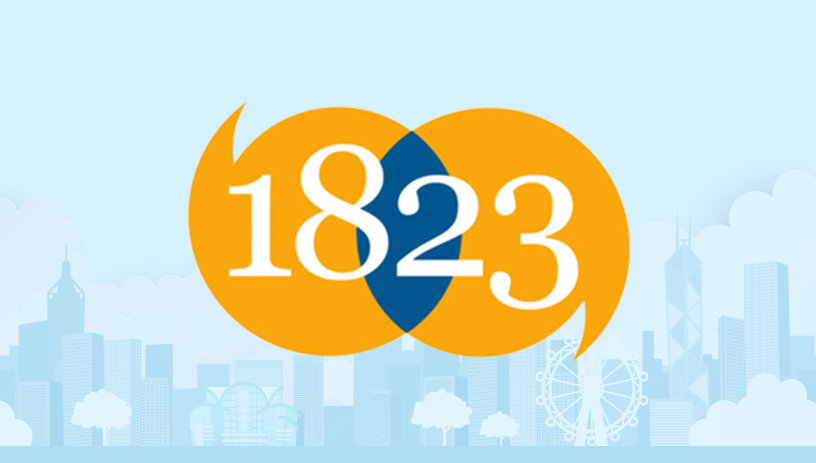 2001
Establishment of 1823
Handled enquiries and complaints for five departments, including Food and Environmental Hygiene Department, Transport Department, Buildings Department, Electrical and Mechanical Services Department and Highways Department.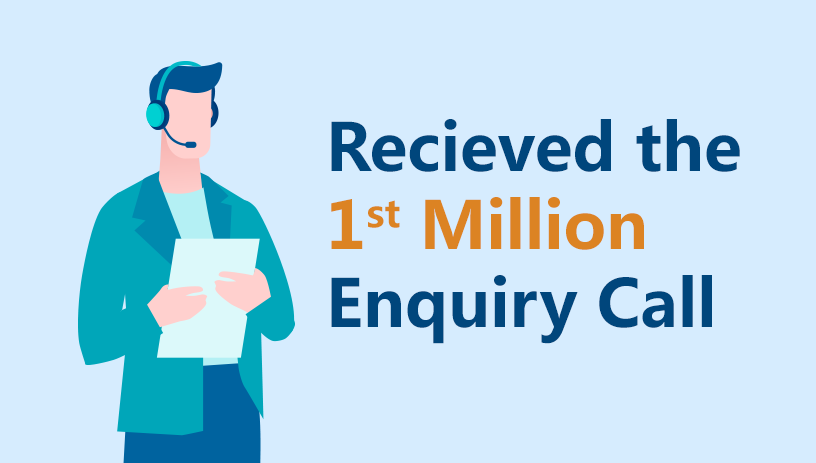 2005
Received the one-millionth call to 1823
Received the one-millionth enquiry call to 1823 during Christmas.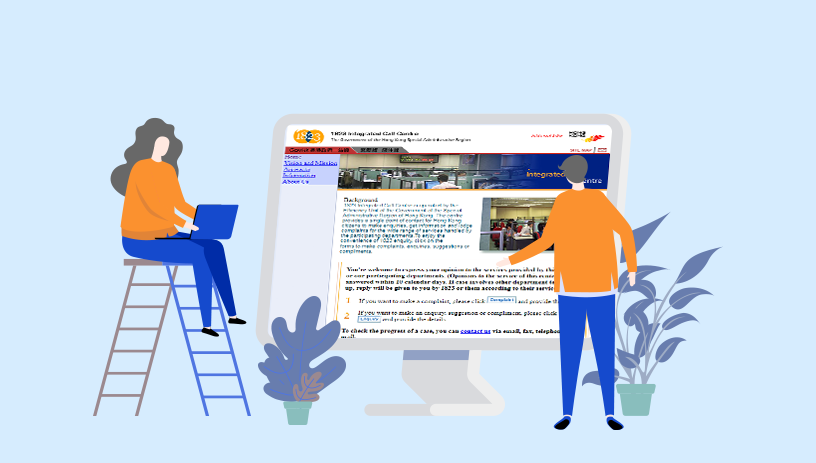 2006
Launch of the website and online forms
Provided on the internet the information of 1823 and allowed citizens to submit enquiries, complaints, suggestions and compliments related to government services online.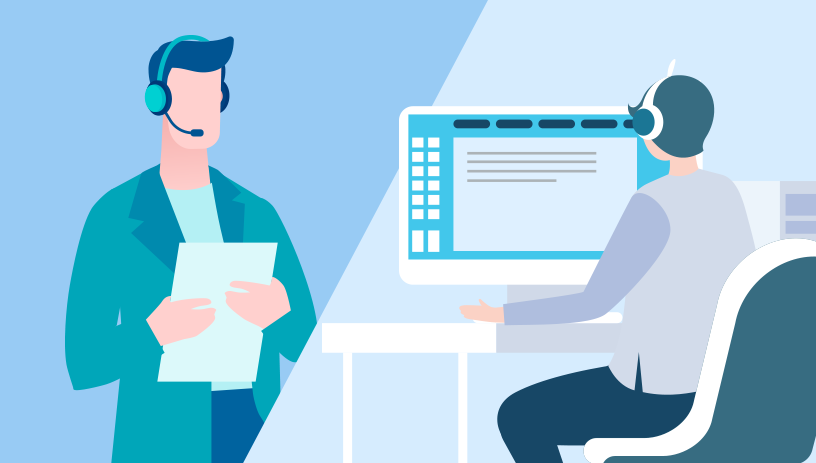 2009
Received complaints of all government bureaux and departments
Received complaints on all government services and ensured the complaints were referred to the appropriate department for investigation and follow up.
2011
Expansion of online services
Launched the 1823 Online website, mobile application "Tell me @ 1823" and 1823 Online Facebook page. Citizens could contact 1823 conveniently anytime through different channels.
2019
Launch of the new 1823 website and the Chatbot
The 1823 website adopted a new design which improves the experience of mobile device users. Dynamic e-forms were provided to facilitate case reporting. Also, 1823 piloted the use of Chatbot to answer simple public enquiries.
The 23rd participating department joined 1823
With the participation of the Greening, Landscape & Tree Management Section of Development Bureau, the number of participating departments of 1823 increased to 23.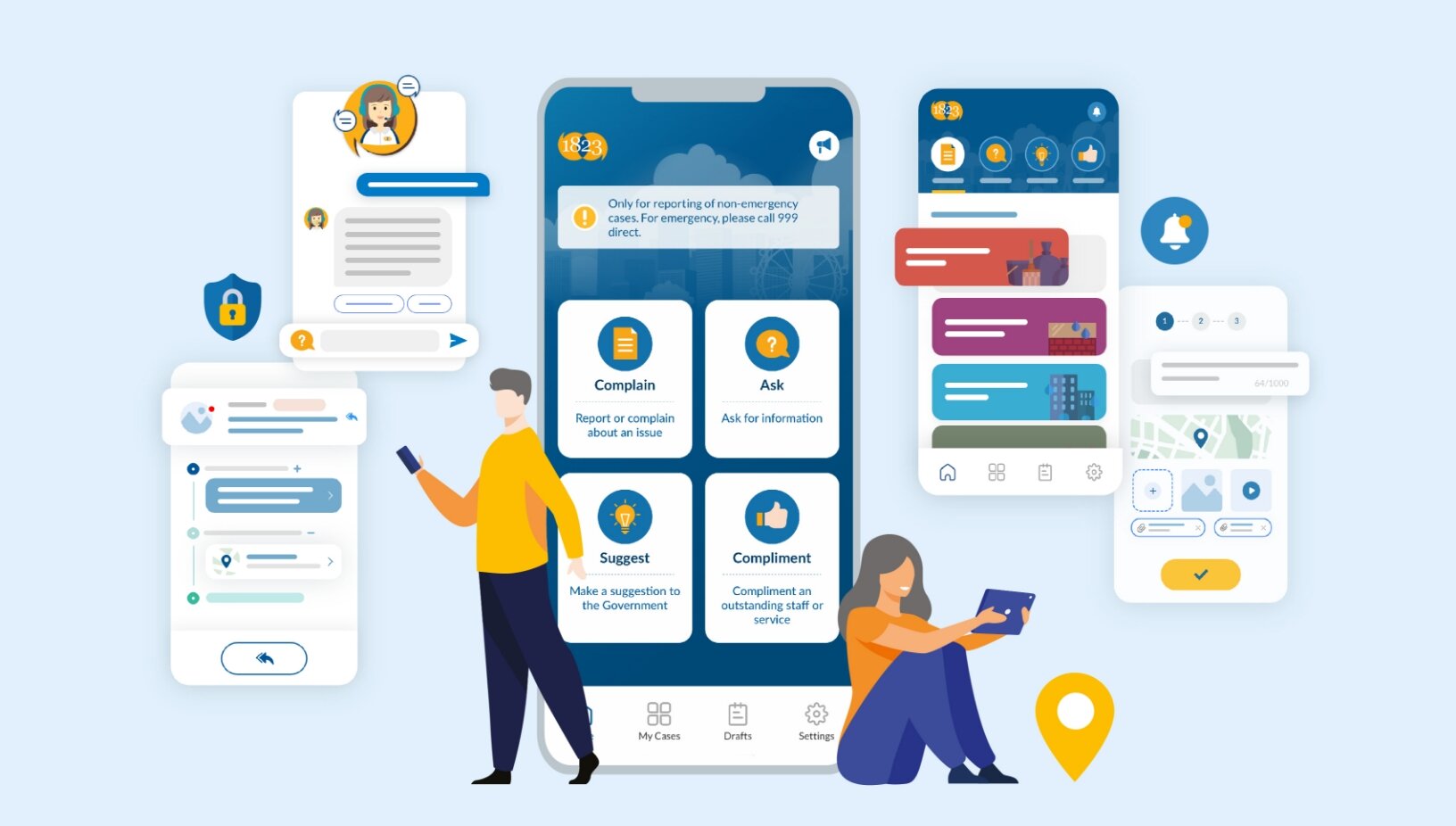 2022
Launch of revamped "Tell me@1823" mobile application
The revamped "Tell me@1823" now provides new functions and better user experience. Citizens can submit, check and follow up their cases more conveniently.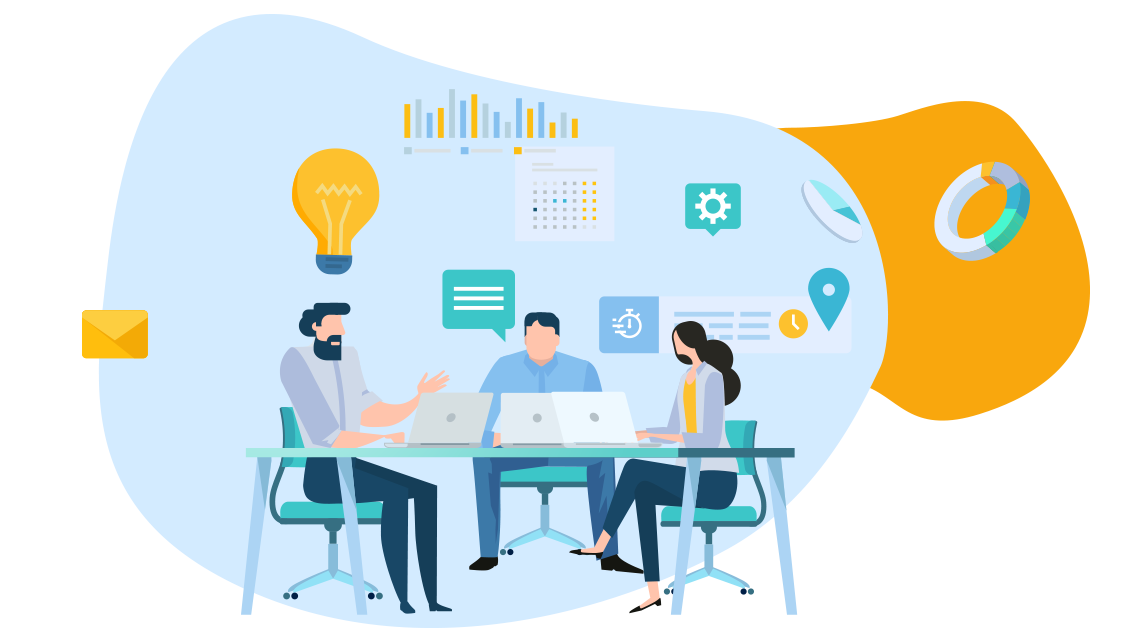 Request for Information
Requests for information or records (e.g. Voice Record) may be made by e-mail to tellme@1823.gov.hk or by post to PO Box 1823 Tsuen Wan Post Office. Records produced would be charged at cost and the processing time is around 10 calendar days.
The following items will be charged at cost:
Voice record in CD-ROM - Each CD-ROM $76.00
Case record in hardcopies - Each page (A4 size paper) $1.50
The information will be released when the requisite payment has been made.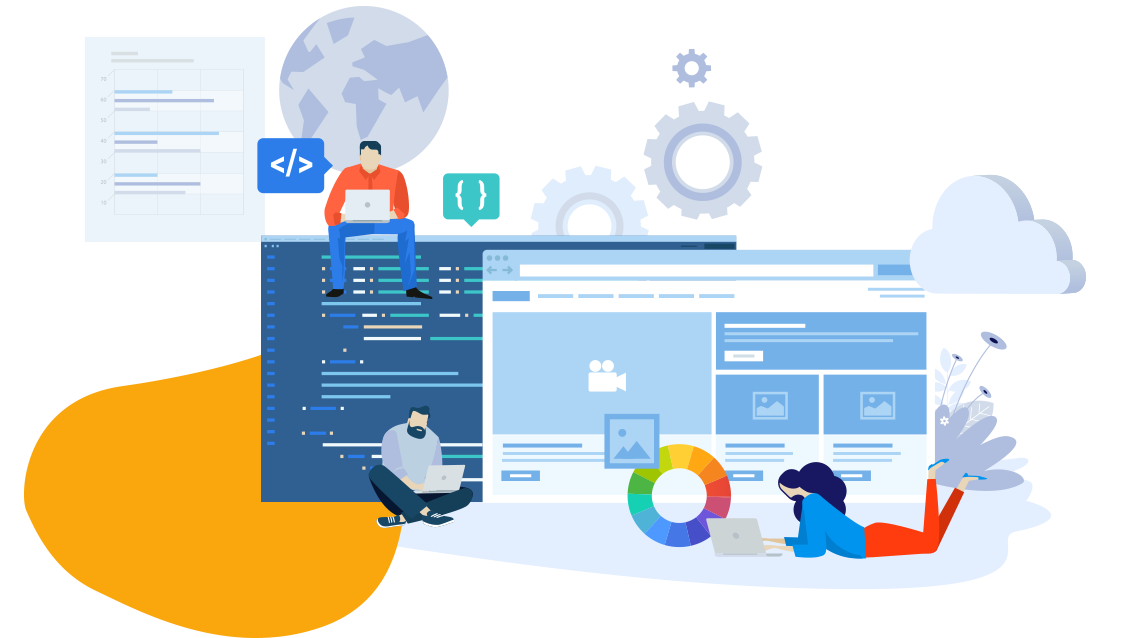 About This Site
This website is produced and maintained by the Efficiency Office, the Government of the Hong Kong Special Administrative Region.
Overseas Internet users should note that the telephone numbers and facsimile lines of Hong Kong are preceded by the area code "852". "$" in documents, unless specified, refers to Hong Kong dollars. The rate is approximately US$1=HK$7.80.