1823 has been working closely with various government departments to handle public enquiries and complaints effectively through different channels. The efforts and good work of our colleagues can be seen in the awards and recognitions received over the years. The following is the awardees' sharing -
Peggy Chan, winner of the "Hong Kong Customer Contact Association Award 2021" - Silver Award for Inbound Contact Centre Representative of the Year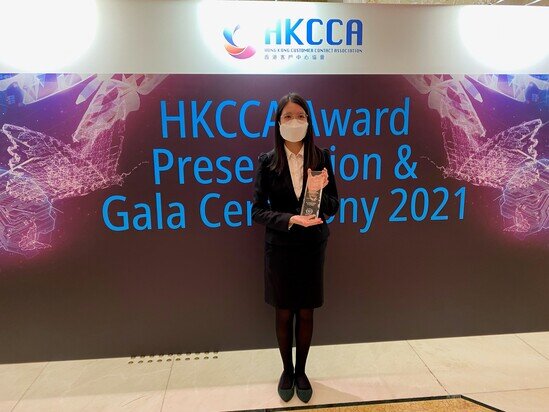 It is a great honour to learn that I have the opportunity to represent 1823 of the Efficiency Office in this competition. 1823 has been working at the forefront of handling complaints and enquiries on behalf of the Hong Kong Government. Since the outbreak of the COVID-19 epidemic, 1823 sticks to the frontline of fighting the epidemic to provide the public with the one-stop service. I am pleased to share with you the recent case handling experience in 1823. With the valuable experience gained in this competition, I fully understand the pursuit of high-quality customer service in various industries and reflect on my determination to solve problems for the public.
Michael Liu, winner of "The Ombudsman's Awards 2021 for Officers of Public Organisations"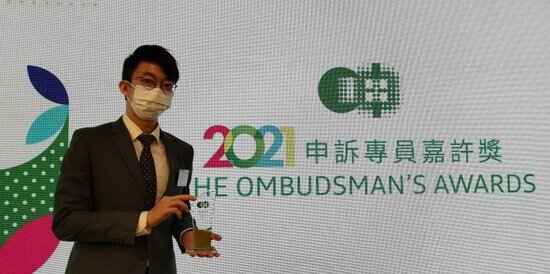 I feel honoured to receive this award from the Office of the Ombudsman. This is not only a recognition of my performance, but also an appreciation of 1823's work in handling public enquiries and complaints.

1823 serves as the bridge of communication between citizens and Government departments. When citizens report to us some problems that need to be resolved by the Government, we will record the cases and refer them to relevant departments for follow-up. Some cases may be complicated and involve multiple departments, while for some others, departments may have different views on the same case. 1823 will coordinate with the relevant departments to resolve such cases.

For example, we once received a request to extend the railings along Tai Hang Road for prevention of boars from getting onto the pavement and causing danger. After receiving our referral, the Transport Department (TD) replied that the case did not relate to traffic management and suggested referral to the Lands Department (LandsD), Highways Department (HyD) and Agriculture, Fisheries and Conservation Department (AFCD) instead. Nevertheless, LandsD, HyD and AFCD held different views on the case. In the end, after reviewing the case with the relevant departments through our escalation mechanism, TD agreed to take necessary actions to extend the railings concerned. The citizen was also satisfied with the follow-ups by departments.

The sense of accomplishment upon completion of each case is my motivation for work. I would like to take this opportunity to thank my supportive colleagues in 1823; the management for their support to the frontline; and the cooperation by related departments. All of these have made efficient handling of cases possible. Last but not least, many thanks to 1823 for giving me this opportunity to serve the community. I will keep up the work to provide quality services to the public.