1823 has been working closely with various government departments to handle public enquiries and complaints effectively through different channels. With the efforts of our colleagues, our commitment in delivering quality services has once again been recognised last year. Our Customer Service Officer, Ami Ng, was presented the "Award for Officers of Public Organisations" at the Presentation Ceremony of The Ombudsman's Awards 2019.
The Ombudsman's Awards aim to honour government departments, public organisations and individual public officers' excellent performance in handling enquiries and complaints. It is encouraging for 1823 to gain recognition from the Office of Ombudsman. Below is the sharing from the winner -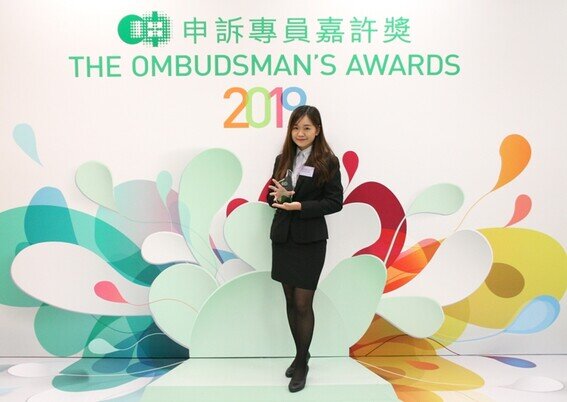 I feel honored to receive this award. It is a recognition of my work as well as a recognition of our centre in serving the public.
1823 serves as the bridge of communication between citizens and Government departments. It is very important to record the case details, refer the cases and provide the departments' reply to the citizens. We often handle some cases which involve multiple departments. For example, a citizen once reported that there were some trees causing visual obstruction to drivers and requested to remove the trees. Therefore, we contacted the Leisure and Cultural Services Department which was the responsible tree maintenance department and the Transport Department which was responsible for the road safety respectively, to help the citizen by handling his case from multiple angles.
Sometimes, different departments will have various views on the case. We will coordinate the departments in coming up with a consolidated reply. With the concerted effort, we hope the departments will take appropriate actions and the citizen can receive a satisfactory reply.
First, I want to thank the management's support and encouragement to the frontline staff. Also, I would like to thank the departments for their coordination and understanding in case handling.