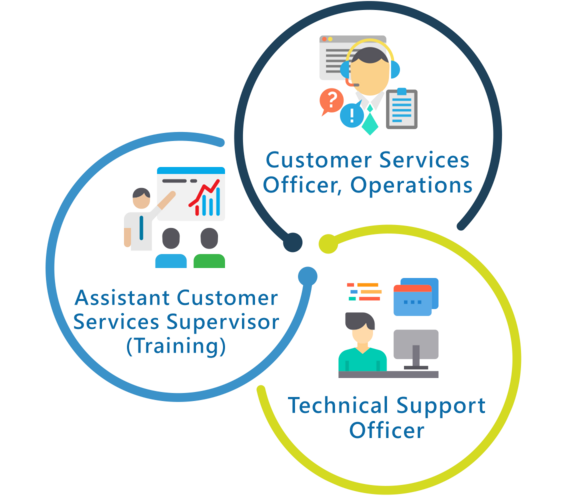 With the concerted efforts of colleagues in different positions, 1823 is able to provide round-the-clock one-stop service to citizens:
Customer Service Officers (CSO) handle calls and contacts from citizens every day, answer their enquiries and receive their complaints, suggestions or compliments on all government services.
Assistant Customer Service Supervisors (Training) provide comprehensive trainings and guidance to enable the CSOs to provide accurate government information for citizens and to refer cases to appropriate departments for follow-up in a professional manner.
Technical Support Officers assist in managing and monitoring various Information and Communications Technology systems so that colleagues can serve the citizens more quickly and conveniently.
Besides, colleagues of administrative support team and business process re-engineering team also play indispensable roles in the daily operation of 1823.
Job Vacancies
1823 invites you to join our professional team!
Position
Duties
Salary
Deadline
Customer Service Officer (Overnight Shift)

Handle enquiries and complaints from the public through phone, email, etc.

$20,410 per month after training

13 Dec 2023




17 : 00 : 00

Evening Shift Customer Service Officer

Handle enquiries and complaints from the public through phone, email, etc.

$109 per day after training

13 Dec 2023




17 : 00 : 00