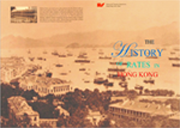 Rating has a long history in Hong Kong. The first Rating Ordinance, Ordinance No.2 of 1845, was enacted in that year and related to the Police Rate which was collected to pay the expenses for upholding and maintaining the police force in Hong Kong. In fact, the Chinese term for rates (Chai Heung (差餉)) means literally "Police Pay", and so retains its links with the original purpose of this levy. With the improvement in public services provided to the citizens over the years, rates collected also covered the expense of public lighting, water supply, the fire brigade, etc. The Police Rate was assessed as follows:

A consolidating Ordinance, the Rating Ordinance 1888, enacted on the 5th May 1888, provided the framework for rating not only in the 19th century but also for the present day. Previously, the rates for the police, water, lighting and fire brigade were assessed separately. In 1888, the charges for rates were consolidated as follows –
in the City of Victoria1 13%
in the Hill District1 8¾%
in any other place 7%
with the proviso that two per cent of the rates levied in the City of Victoria might, at the Governor's discretion, be disposed of to cover the expenses of the water supply. This specific provision for water supply still has echoes in modern rating legislation which provides for a reduction in rates payable if a property does not have access to a government water supply.
The terms "tenement", "rateable value" and "interim valuation" which were re-enacted or introduced in the Rating Ordinance 1888 have remained central to rating law in Hong Kong since that time and, although amended many times, the essential meaning has remained the same to the present day.
If you are interested in the history of rates in Hong Kong, you may like to read the booklet published by the Rating and Valuation Department here. A chronology of events is also available online for easy reference.
1 The definitions of City of Victoria and the Hill District are only available in Chinese.
Want to learn more?