About Tell me@1823
1823, operated by the Efficiency Office of the Hong Kong Special Administrative Region Government, answers enquiries for 23 participating Government departments and receives complaints, suggestions and compliments about any area of government services.
Tell me@1823 serves as an alternative to the phone calls, allowing you to contact 1823 at any time. Since its launch, there has been a considerable increase in downloads and usage. To further enhance user experience, a newly designed Tell me@1823 v2 mobile app is now available.


Important message to users of older versions (before 2.0)

Older versions of Tell me@1823 have ceased case submission and follow-up function since 21 July 2022. 1823 will continue to handle the cases you submitted through older versions of the mobile app and reply to you. If you need to submit new cases to 1823, you are welcome to download the new version of the app.

Please note: The old version of the mobile app and records of previously submitted cases will not be automatically updated to the new version of the app. If you wish to keep record of the cases you submitted through the old mobile app, please do not delete the old mobile app.
Download
Latest version: 2.1
Operation system requirements
iOS: iOS 12.0/iPadOS 13.0 or above
Android: Android 8.1 or above
Huawei: Android(EMUI) 8.1 to 11.0
Users of other mobile devices may use the web version of our e-forms on 1823 Online, which also supports uploading of files for case submission.

Functions
Tell 1823 the details of your request - by text or by voice recording
Submit complaints of different topics with ease using simple forms
Take a photo or video - they are worth a thousand words
Use the location service to mark the case location on a map
Save your cases as drafts for editing and submission later
Save your contact information so that you don't have to input again next time
View your case history, check replies from the departments, follow up on the cases, or inform 1823 to close the cases
Auto information search - get relevant information for simple enquiries from 1823 Online search engine
Migrate case data conveniently when you switch to a new mobile device
Lock Tell me@1823 according to your personal settings to protect your data

FAQ
1. I plan to replace my mobile phone. Is it possible to migrate the case information in Tell me@1823 from my old mobile phone to a new one?
New function for "Data Migration" has been launched in version 2.1 ("v2.1") of Tell me@1823. You can use the "Data Migration" function to transfer the case records from the Tell me@1823 in the old mobile to the new one and check the case replies of the relevant cases in the Tell me@1823 in the new mobile phone (App needs to be updated to v2.1 in both old and new devices). Please also note that upon successful migration, you will not be able to use your old device to receive replies to the migrated cases.
Please note that data transfer or backup functions or programs provided by a third party may not reliably transfer your case data in Tell me@1823 to another device. If you need to transfer your case data in Tell me@1823, you must use the built-in "Data Migration" function of Tell me@1823 and complete the entire transfer process by following the instructions. For details of how to use the migration function, please click here.
2. Is there any charge for using Tell me@1823?
You may download Tell me@1823 for free from App Store, Play Store or AppGallery, but you should be mindful that your mobile network service provider may charge you for using the mobile data network. When using roaming services in regions outside Hong Kong, you may have to bear additional data roaming service charges for using Tell me@1823.
3. For complaints, if I cannot choose a suitable form, what should I do?
If you cannot find an appropriate topic for your case, please scroll to the bottom of the page and tap "Others". Please provide details, such as date and time, of your case as far as possible to speed up handling of your case.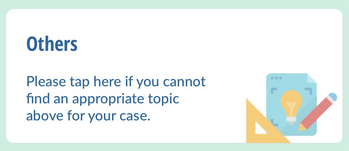 4. Is there any limitation on the submission of cases through Tell me@1823?
You can input a maximum of 1500 bytes of characters (about 500 Chinese characters or 1500 English characters), and upload a maximum of 10 photos, videos or files. The total size of all files (including voice recordings) to be uploaded cannot exceed 15MB.
5. How do I record the location for my case using Tell me@1823?
With the map function in Tell me@1823, you can specify the case location or lamp post number manually.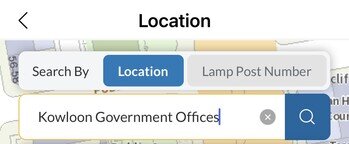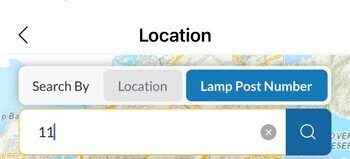 Additionally, you can enable location service on your mobile device to let Tell me@1823 determine your current location. Tell me@1823 only records the location of reported cases with your consent at the time the case is made. It does not track the whereabouts of individuals.
You may also provide textual description of the case location in "Additional Location Information".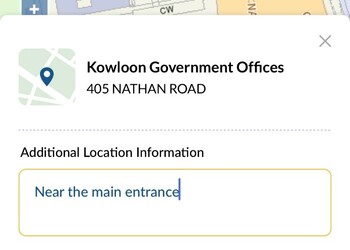 6. Why I cannot access the camera/photo album/files/microphone/map functions in Tell me@1823 or receive push notifications?
Please go to the Settings of your mobile device and check if you have allowed Tell me@1823 to access the relevant functions.
7. Can I edit the photos or add captions to photos or videos on Tell me @1823 ?
After adding a photo, you may tap the pencil icon (

) to annotate the photo, and use the rotation function (

) to change the orientation of the photo.
After adding a photo or video, you can add or update the caption in the text box at the bottom of the page.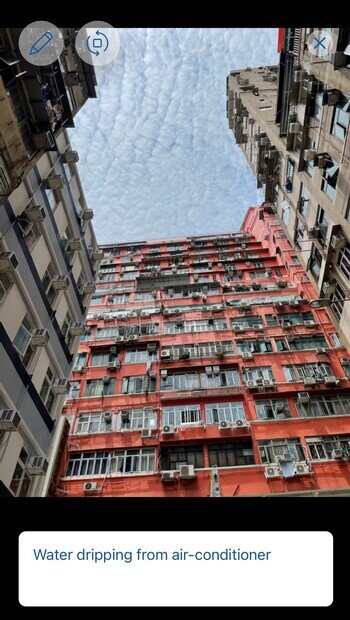 8. Why do I need to verify my submission when submitting a case?
The verification step is to prevent malicious use of Tell me@1823 and submission of case in mass volume.
9. Can I save my unfinished submission and continue later?
You may save your unfinished submission by tapping "Save as draft" at the bottom of the report form and exit at any time.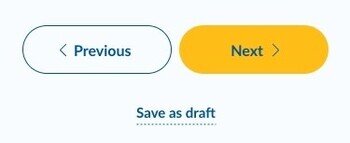 To continue the submission, please go to the "Drafts" page for all saved drafts.
10. How can I know if my submission is successful? How to review the case progress and replies?
A message that reads "Case submitted successfully" and a transaction reference number will be shown upon successful submission of a case.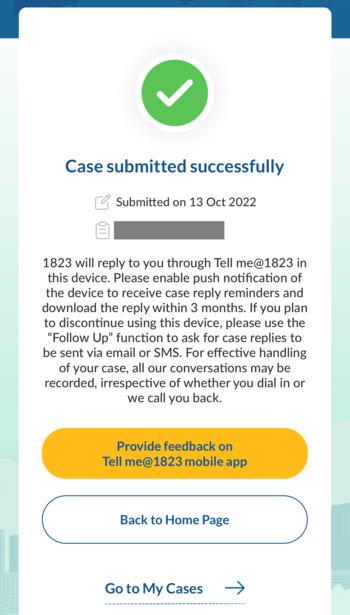 You may also check the details and status of successfully submitted cases in "My Cases". The milestones of case progress are "Submitted", "In Progress" and "Processed" respectively. You can use the search, filter and sort functions at the top of the page to locate the relevant cases. If you have chosen to receive notifications from Tell me@1823 in the setting of your mobile device, when a reply to your case is available from 1823*, a push notification will be sent to you. You can tap the notification message or open Tell me@1823 to download and read the reply. Replies will be kept in the 1823 system for 3 months for user to download. If necessary, you may contact us to follow up on a case.
*Please note that department(s) may reply to you directly through other channels (e.g. phone or email). In this case, the relevant replies will not be shown in Tell me@1823. However, you are still able to find the updated status of the relevant cases in "My Cases".
11. How do I follow up on or close previously submitted cases?
If you wish to provide supplementary information on your submitted cases, please go to "My Cases", select the relevant case and then tap "Follow up" in the "Case Summary" page. If the issue has been resolved or you do not want to pursue it further, please tap "End Case" to close the case. No further updates on all the issues mentioned in the case will be provided by department(s) after receiving the request of closing the case.

12. How do I get instant information for simple enquiries from auto-search results from 1823 Online website?
When entering your question in "Required information" field, the system will, based on your inputs, display 1823 webpages that may answer your enquiry.
13. How to prevent others from using Tell me@1823 on my mobile device and accessing the cases details in it without my permission?
You may turn on the security lock to protect your case and personal data stored in Tell me@1823. Upon turning on the security lock, you will have to unlock by entry of passcode or biometrics stored in the device to open Tell me@1823.
14. Can I use Tell me@1823 as usual if I am outside Hong Kong?
Some functions of Tell me@1823, such as map, push notification and verification code, may not function properly in other regions outside Hong Kong.
15. How can I provide feedback on Tell me@1823?
We value your feedback on Tell me@1823. Please go to "Settings" and tap "Feedback on Tell me@1823" for completing the questionnaire.